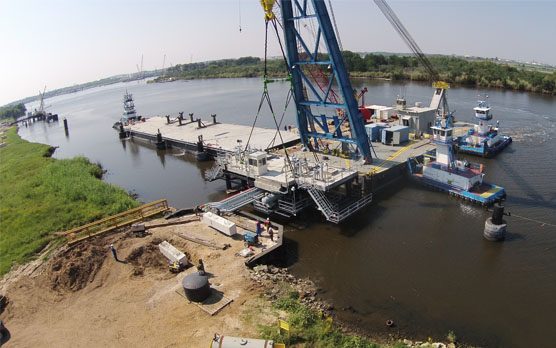 About Project
Location: Beaumont, Texas
Description:  LEI provided final design and permitting assistance of a barge dock for Enterprise Product Partners (EPP) in Beaumont, Texas. EPP required the construction of a replacement barge dock within the footprint of their existing barge dock along the Sabine Neches River.
This newly designed structure is designed to accommodate 2×2 river tanker barges (2 abreast x 2 in line) and support product transfer via two marine loading arms. The upgraded dock has ensured improved foundation design and efficiency. The new design was a completely modular dock, fabricated entirely offsite, and included all piping and process equipment installed prior to delivery to the site. Upon delivery, the contractor will lift into place and weld to steel pipe piles, which have been driven onsite. In addition to the dock structure, LEI designed new breasting/mooring dolphins to replace the older dolphins at the site.
Project Details
Categories:

Barge Dock, Construction Mgmt, Design

Skills:

Engineering