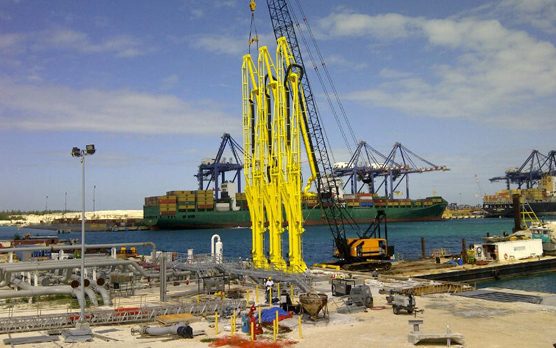 About Project
Project Description
Location: Freeport, Bahamas
Description: The design of the marine loading platform required the need to maintain berth loading capabilities during the construction phase of the project at selected times. There was limited space for installation of the new platform between existing product manifold to the berthing line and the site geology denoted fractures in the substrata which adversely impacted loading capabilities needed to support four (4), 16″ and one (1), 20″ Marine Loading Arms. Additionally, the oil-water separator installed during Phase 1 construction was set 12 inches higher than design data provided for the Phase 2 design. This required a modification of the design during Phase 2 construction to ensure proper drainage and environmental integrity of the new MLP.
Lloyd Engineering acted as the Prime Contractor on the project. LEI coordinated; purchase of all equipment, the interface of independent civil, mechanical and electrical designers, construction bidding/contracting along with the management of QA/QC and scheduling.
Project Details
Categories:

Construction Mgmt, Design

Skills: