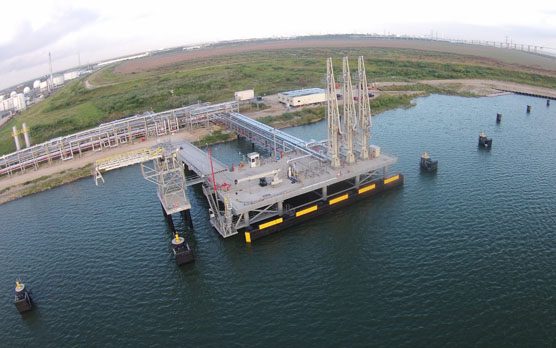 About Project
Location: Houston, Texas
Description: 
LEI provided the final design of a new LPG Ship Dock for Enterprise Product Partners (EPP) at their Barbours Cut terminal in Houston, Texas.
LEI as a part of design-build team with Weeks Marine, Inc. (WMI) provided final design services for the EPP Dock 8 Project. The project included design for the following elements:
Mooring Analysis
Bulkhead
Dredging
Shoreline protection
Pipe trestle and Pipe Racks
Approach trestle
Jetty platform
Mooring dolphins
Breasting dolphins
Full face fender system
The design was a completely modular dock, fabricated entirely offsite, and included all piping and process equipment installed prior to delivery to the site. Upon delivery, the contractor will lift into place and weld to steel pipe piles, which have been driven onsite.
Project Details
Categories:

Design, Design/Build, Ship Dock

Skills:

Engineering